I want to share my third amp build with you today. I wasn't too happy with the previous one, so this one was going to be better.
The objective this time was a single channel amp that's mostly clean. I also wanted to use this as a base for future builds by adding an FX-loop, and a volume control after the loop. The idea here is to use the power section for testing other preamps by using the FX return as input, and having the volume control work on this signal.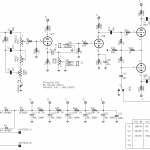 For the first stages of the preamp I chose a slightly modified DC30 clean channel scaled to work with my HT voltage. I tried a lot of different tone stacks, but fell for an FMV stack I found in a TopHat schematic. This continues into a "practical serial FX-loop" I borrowed from Merlin's latest book (preamps 2nd ed.), and then a typical long tail PI. The power section is something I put together from a lot of different sources, including Kuehnel's power amp book, several datasheets and plenty of old schematics, with a dose of calculations and plotting of curves mixed in.
Last build was cramped so I wanted to make this amp less complicated with less components etc… and then I added a bunch of stuff, and before you know it there was very little room left, again. Didn't help that I went with a smaller chassis either. I'm a slow learner

So, with the turret boards and all, the only way I felt I could fit it all in a reasonable fashion was to add the tube sockets to the board and rest it on 5mm nylon stand-offs, moving the large power filter caps to a separate board. Clearly things can still be improved.
But it works beautifully. Running from clean to some overdrive at max gain (also depending on bypass caps and negative feedback in the power section). That is until I discovered I had the bypass caps the wrong way on the 6V6s. No damage done (other than the caps), but I'll have to replace those.
Still missing is a front panel covered in grill cloth. Still waiting for the cloth to arrive from overseas. More pictures to come.